The redeveloped area outside is freely accessible.
The actual "cement trail" (extraction tunnels and interiors of the buildings) can be visited accompanied by a guide (admission charge).
Type of guided visit
Admission prices (CHF/EUR)
Adult
Reductions
Cement trail
(Groups up to 25, duration 3 hours)

Booked or according to programme

20
15*

Special price for schools

250

Personalised visits, also at night, aperitif with local products

On request
Furnace towers
(duration 1 hour)

Booked or according to programme

10
7

Special price for schools

90

Rooms to rent for meetings, concerts, party's etc.

On request
* Children up to 16, senior citizens, students and apprentices, families of 3 or more (50 CHF/EUR)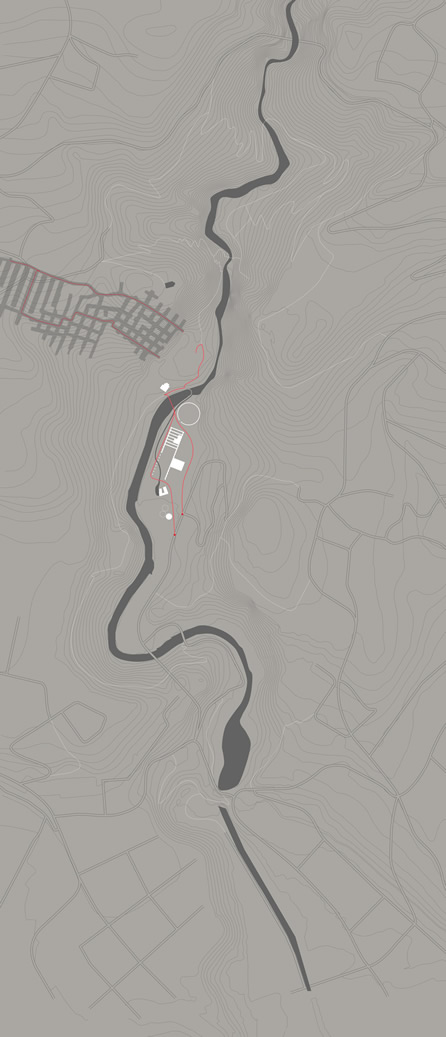 ---
Contacts
Parco delle Gole della Breggia
Casella postale

8
CH-6834
Morbio Inferiore
Svizzera
Tel: +41 (0)91 690 1029
Fax: +41 (0)91 690 1038
How to find us
By car:
A2 Airolo-Chiasso Motorway, exit Chiasso and follow signs for Morbio Inferiore. Parking "All Togna" locality, Balerna.
By public transport:
Bus NFB 2 from FFS train station Chiasso or Balerna until bus stop Morbio Inferiore, Ghitello.
Topographical coordinates
722 160 / 078 865
Cement works in the park. The history of Saceba and the reclamation of the area following its closure.
The history of the Saceba cement works and the valley that contains it is a little disconcerting but also particularly significant: how does one come to build such a monstrosity in a beautiful spot like the Breggia Gorge?
The cement works operated at full capacity from 1963 until 1980. It supplied the building sites of Canton Ticino during the twenty years of economic boom before reducing its output prior to finally closing down in 2003. By that time a park had already been created around the works. What was to be done with the furnace and mill towers, the huge sheds, the quarries and mines situated in the immediate vicinity?
After a long and heated debate, a project was launched to redevelop the area that included what was left of the cement works in a historical-natural trail for visitors, which today is widely considered a model for the cohesion of its conception and its realisation.
The book narrates the history of the Breggia Gorge, the story of Saceba and that of the reclaimed land, availing itself of numerous unpublished documents and a wealth of photographic material. Readers, moreover, will be able to find special articles on topics that range from geology, to engineering, architecture and to social and economic history.
Edited by G. Buzzi and P. Pronini Medici
Casagrande Publishers
2012
pp. 216
ISBN 9788877136374
EUR 40.00 – CHF 48.00